1/2 KG Full Spectrum AAA Labradorite/Spectrolite rough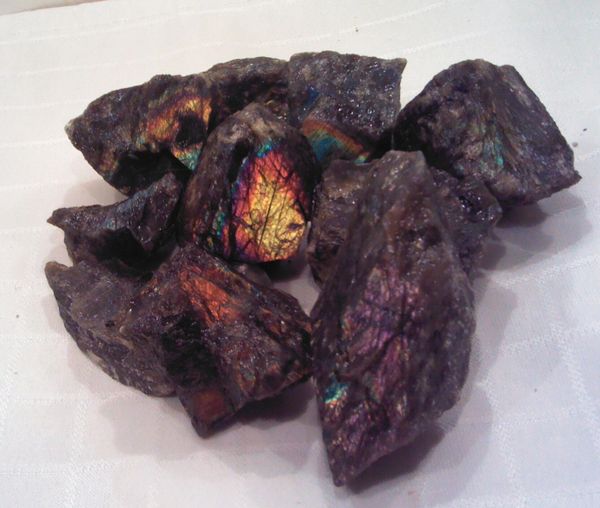 1/2 KG Full Spectrum AAA Labradorite/Spectrolite rough
Our Full Spectrum Material!
Top graded Full spectrum Labradorite, the best of the best. This material is by far one of the finest materials available on the market. The black base makes for rich, bold cut stones with a lusterous black satin finish. Unlike traditional Labradorite, this material retains a beautiful look even when the labradoressence is inert on the off angles. It can also, and often, exhibit a silver chatoyancy that rolls across cabochons in a cats eye effect (similar to effect seen in star rubies and star sapphires, but with a single band).
Our AAA has been top graded to exhibit full faces of flash with minimal to no waste due to non flashing or dead spots. As an additional perk, and considering I cut this material myself, we also ensure that the pieces are well shaped with great flash angles to yield maximum cutting. Basically, if we come across a piece shaped oddly with the flash on a difficult or thin angle, we hold it back or confirm with you at the very least.

We encourage you to request a video after or even prior to your order to view the exact pieces we have selected for you. We do this free with the hopes it shows just how amazing this material is in motion.
All pictures taken wet and at the optimum angle to show color (except maybe the group picture, there tough to get standing just right!) Pictures are of a small sample lot (much smaller than the 1/2KG). The material received will be of equal or greater quality than shown.