Faceted Blue Labradorite and Faceted Sapphire in a Custom Sterling Silver Gallery Style Pendant PS301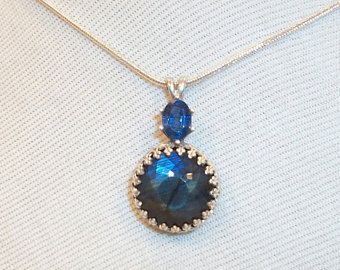 Faceted Blue Labradorite and Faceted Sapphire in a Custom Sterling Silver Gallery Style Pendant PS301
Faceted Blue Labradorite and faceted Sapphire in a Custom Sterling Silver Gallery Style Pendant
Custom made. The gallery bezel setting is hand made and not a factory piece. The Silver back plate is twice the thickness as most standard settings in order to match the side beading on the Gallery bezel.
The large faceted Sapphire measures at 7x5mm, it does have a visible flaw that can be seen when closely looked at, but the colour match to the Labradorite is quite impressive.
The Labradorite itself is a flawless piece. The blue glow rolls across every facet and exhibits a sapphire blue. I hand cut this piece in a modified Portuguese cut and was more than happy with the finish.
Chain not included.
Approx size: 27x16mm
PS301
$389.00