Purple Blue Labradorite and Hand Faceted Iolite in a Sterling Silver Custom Setting. Pendant PS315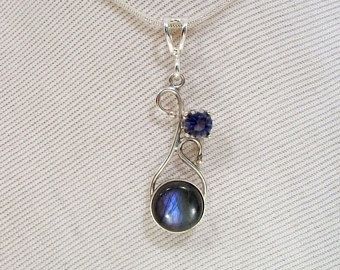 Purple Blue Labradorite and Hand Faceted Iolite in a Sterling Silver Custom Setting. Pendant PS315
Purple Blue Labradorite and Hand Faceted Iolite in a Sterling Silver Custom Setting.
Pictures are not, in any way, capturing either the Iolite or Labradorite's beauty. It took me quite a long time to find a Labradorite that transitions from both the correct shades of blue and purple that are found in Iolite. I Also hand cut the Iolite and am quite pleased with the outcome.
Both stones are 10 times nicer in person, I will work on getting better pictures. (I have it in my hand as I write this and the faceted Iolite is gleaming and refracting beautifully at the same time the Labradorite is showing colour that matches the Iolite perfectly... its a tease.)
Chain not included.
Approx size: 42x12mm
PS315
$299.00