Large Sterling Silver, Labradorite, Hand Crafted Pendant by Carleton King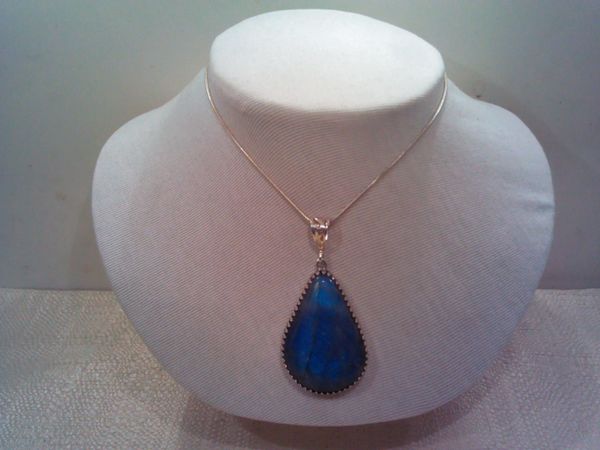 Large Sterling Silver, Labradorite, Hand Crafted Pendant by Carleton King
Hand crafted by Carleton King.
This unique one of a kind piece features a solid, sterling silver, custom made setting. Over 1/3 of an ounce of silver was used in the design. This solid back design incorporates a thicker than usual 1mm, solid Sterling silver back plate, bringing an added thickness and weight to the overall design that can be seen and felt in the quality.
The Labradorite stone was also hand cut by Carleton King in a beautiful traditional blue that everyone loves. Finished to a mirror polish and oriented ideally for this bold statement piece.
Overall weight is approximately 1 ounce (27.4g)
Stone size is 45mm x 32mm x 8.75mm
Overall pendant size (including bail) 64.5mm x 32mm x 9.75
Chain not included. A video can be viewed by request of this piece in motion, to show the quality of the flash in motion. Custom work always welcome!